Main information:
Prunn Castle
Tour of the castle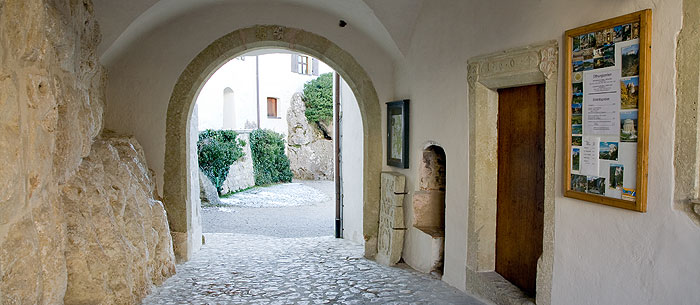 Access to Prunn Castle is from the north side via the wooden drawbridge resting on three piers across the ditch. Passing through the vaulted gateway hall with its guardroom (now the ticket office), visitors enter the castle courtyard which offers extensive views westwards of the Altmühl valley. The irregular grouping of the living quarters on the east side of the castle courtyard resulted from the need to adapt the castle to the terrain.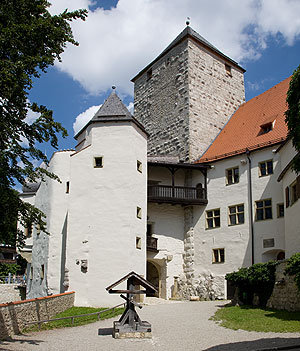 The tour of the museum starts in the castle's main living quarters. Via a former store room, visitors first enter the Great Hall where the actual guided tour on the permanent exhibition "Prunn Castle and the Nibelungenlied" begins.
From here, the route leads up the staircase into the living rooms remodelled during Jesuit ownership and through the upper floor of the late-mediaeval residential tower into the castle chapel. Next on the tour are the Knights' Hall and the castle keep dating from the High Middle Ages. The tour ends in the Köckh wing with the women's apartments. A winding staircase takes visitors back down to the castle courtyard.
To see a picture of a particular room, please click on the relevant room number in one of the following lists:
Plan of the first floor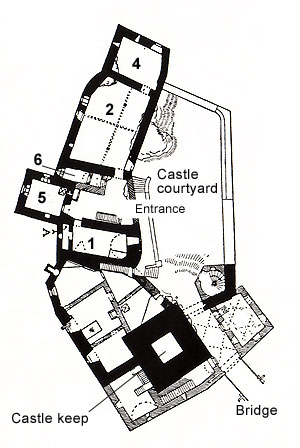 Room 2 Palas – the lords of the castle in the Middle Ages
Room 3 The castle and its defence
Room 5 Residential tower – illustrations of power
Plan of the ground floor (Palas)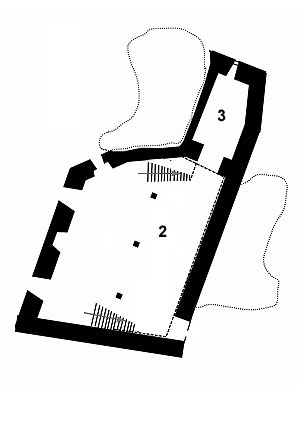 Room 2 Palas – the lords of the castle in the Middle Ages
---
Plan of the second floor
| top |