Main information:
Information for visitors
Further sights
Apart from Prunn Castle the Bavarian Palace Administration also cares for the following sights in the surrounding area:
The memorial commemorating the victorious battles against Napoleon in the Wars of Liberation in 1813-1815 was commissioned by King Ludwig I and begun by Friedrich Gärtner, who modelled it on centrally planned buildings from ancient Rome and the Italian Middle Ages.
It was completed from modified plans in 1863 by Leo von Klenze. The supporting buttresses of the façade are crowned by 18 monumental statues which are allegories of the German tribes. The number 18 also symbolizes the date of the Battle of the Nations at Leipzig (18.10.1813), when Napoleon's troops suffered a crushing defeat at the hands of the Coalition.
---
The Walhalla, one of the most important German national monuments of the 19th century, stands in a prominent position high above the Danube in the vicinity of Regensburg.
The massive Neoclassical temple building was commissioned by Ludwig I and built between 1830 and 1842 by the architect Leo von Klenze. It was inspired by the famous Parthenon on the Acropolis in Athens, but Klenze also incorporated architectural features from other eras and made use of the best construction techniques of the time to create a building with a character of its own.
In the context of the Napoleonic wars, the Walhalla became a permanent place of remembrance for German-speaking men and women of outstanding merit. The magnificent interior has over 140 busts, of "Walhalla compeers". This collection of rulers, generals, scientists and artists considered exemplary in the 19th century, most of which were selected by Ludwig I and his advisers, has been expanded again on a regular basis since 1962.
---
Rosenburg Castle at Riedenburg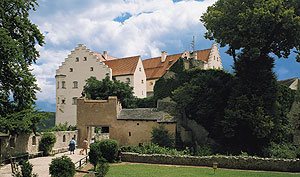 Rosenburg Castle, probably built in the middle of the 12th century, was acquired by the Dukes of Bavaria in 1196, and from then on remained in the hands of the House of Wittelsbach.
The core of this large complex is Romanesque; it was twice destroyed and rebuilt and in 1525 first acquired its present appearance, which is dominated by the residential building in South German Renaissance style with its crow-step gables. Among the highlights is the chapel on the ground floor with wall paintings dating from around 1560.
The castle is now used by a privately run falconry with a Museum of Hunting and Falconry; falconry demonstrations are held in the castle courtyard.
Further information you can get on the falconer's website: www.falkenhofrosenburg.de