Main information:
Things to know about your visit
Information for people with a handicap
Here you will find some information to prepare your visit to Prunn Castle if your mobility is restricted or if you are visually or hearing impaired.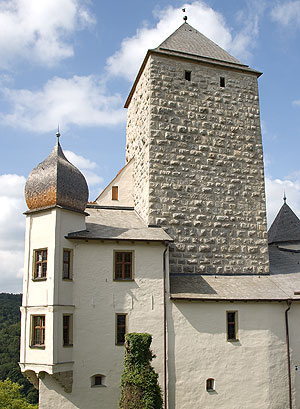 Photography and filming
Taking pictures or filming is unfortunately not allowed during the guided tours. Pictures of the outside of the castle may be taken for private use only. Photo and film shootings for further use as well as the flying of drones / multicopters are basically subject to approval and charges. Here you will find information on photography permits / film permits.
Bulky items
Bulky items may not be taken into the museum rooms. Prams and child carriers as well as large bags, rucksacks etc. can be left at the cash desk. No liability can be accepted for items deposited there.
Dogs
Dogs may only be taken into the castle if they are carried. We cannot offer supervision for animals brought along. Please keep dogs on an lead in the castle courtyard.
Other
When visiting the castle, please wear warm clothing, do not bring any food or drink into the museum areas and mute your mobile phone during the guided tour.