Main information:
General information for visitors
Current information / Coronavirus
For a visit to our sights, the 2G plus rule applies, i.e. all visitors must either be
vaccinated against COVID-19
(with a vaccine authorised in the EU)

or recovered from COVID-19.
You will need to bring appropriate proof (written or electronic) as well as a valid ID (identity card or passport).
IN ADDITION, a negative Corona test must be brought along.
Proof of a negative PCR test (maximum 48 hours old) or a rapid antigen test (maximum 24 hours old). No tests are offered, supervised or proofs issued on site!
Vaccinated persons who have additionally received a booster vaccination or have gone through a COVID-19 infection after complete immunisation (vaccination breakthrough) do not have to present a negative Corona test.
In the case of vaccination with the COVID-19 vaccine Janssen from Janssen-Cilag International (Johnson & Johnson), the second vaccination is not to be regarded as a booster vaccination, but takes place as part of the basic immunisation.
Children under 14 years are exempt from the 2G plus rule. Pupils are considered tested (pupil ID required).
Visitors are required to wear FFP2 masks. Children and young people between the ages of six and 16 only need to wear a medical face mask.
Prunn Castle can be visited only with a guided tour (in German only, c. 45 minutes; reduced group size).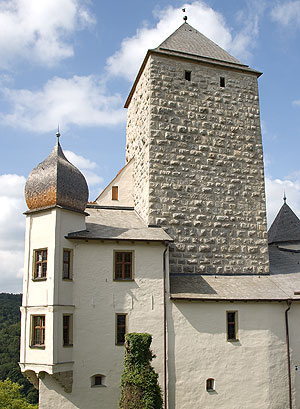 Information for people with a handicap
There are steps leading down from the car park to the castle, but visitors with limited mobility may drive down to the square in front of the castle (which is otherwise reserved for residents).
The rooms in the castle can only be reached via steps. The Castle Courtyard (Burghof) is accessible for wheelchairs.
There is a barrier-free toilet in the administrative building next to the castle.
Photography and filming
Taking pictures or filming is unfortunately not allowed during the guided tours. Pictures of the outside of the castle may be taken for private use only. Photo and film shootings for further use as well as the flying of drones / multicopters are basically subject to approval and charges. Here you will find information on photography permits / film permits.
Bulky items
Bulky items may not be taken into the museum rooms. Prams and child carriers as well as large bags, rucksacks etc. can be left at the cash desk. No liability can be accepted for items deposited there.
Dogs
Dogs may only be taken into the castle if they are carried. We cannot offer supervision for animals brought along. Please keep dogs on an lead in the castle courtyard.
Other
When visiting the castle, please wear warm clothing, do not bring any food or drink into the museum areas and mute your mobile phone during the guided tour.